Carrier Rate Negotiations
Cutting your transportation costs is our passion.
Parcel carriers such as UPS and FedEx and all freight carriers create pricing agreements and contracts to maximize their own profitability. They do so by factoring a multitude of variables into the contract price, such as surcharges, accessorial charges incentives and service terms and conditions.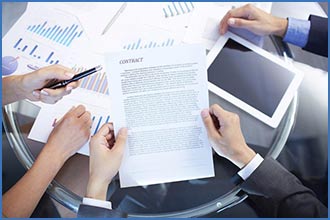 Unless you bring experience to the negotiating table, you're paying more than you should. You need a partner to protect your bottom line by helping you with carrier negotiations.
ICC is intimately familiar with every element of domestic and international Parcel, domestic Trucking, and ocean and air international carriers' pricing models, making us formidable at the negotiating table.
Since 1975, ICC's freight rate negotiations have resulted in tens of millions of dollars in cost savings for our clients.
Put ICC in your corner, and we'll help you negotiate better carrier rates and service agreements for your company.
We sweat the small stuff.
Before negotiating, we bring our decades of experience analyzing carriers' pricing models to scrutinize your transportation and logistics data, including shipping volumes, average revenue per shipment, average weight and cost per shipment, fuel, mileage and your product's shipping characteristics.
If you're happy with your current carriers, we'll maximize your rate reductions. And when you're ready to make a change, we'll get pricing and service proposals from multiple carriers for you to consider.
ICC's freight carrier negotiations achieve substantial
and ongoing cost reductions in:
Carrier pricing schedules and contracts
Accessorial charges
Carrier surcharges
Freight classification ratings
And we'll perform the same data analysis to help you negotiate successfully with UPS, FedEx and other carriers.
But we don't stop there. We monitor parcel and freight carrier invoices after the negotiation to ensure that you're consistently being charged the correct rates.
Don't leave money on the table. Call ICC today and we'll show you how we can boost your bottom line with our Carrier Rate Negotiations.