Freight Invoice Audit Services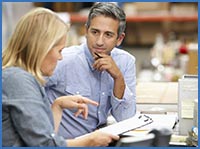 It's easy to control the costs you can see, but what about those you can't? Errors on your freight invoices are draining profits from your company.
Freight carrier billing systems are prone to errors. The best of the freight audit companies, ICC excels at finding those errors and turning them into refunds for our clients through our freight bill audit services.
No matter the carrier or transportation mode, we'll take your transportation invoices, both paid and unpaid, and work our mistake-detecting magic.
Freight Bill Pre-Audit Services
Before you submit shipping invoices for payment, we'll scrutinize them for
Rating errors
Duplicate charges
Incorrect product classifications
Incorrect weights and accessorial fees
Incorrect bill-to party
Our freight audits make sure you pay only for the services you actually received, and only the rates you agreed to pay.
Freight Bill Post-Audit Services
ICC can also save you money on freight bills you've already paid. Transportation invoices are too complex for most accounts payable staff to evaluate. The thousands of transportation companies each have their own base rates, incentives, discounts, accessorial fees and ancillary service charges. We check freight invoices for conformity to contracts, identify billing errors and file claims to recover these overcharges.
Over 95% of the claims we file get paid. That money boosts your bottom line.
Payment Services
Since ICC is already performing pre-audit services on transportation invoices, many clients find it easier and more cost-effective for ICC to pay those invoices as well.
We always pay transportation invoices on time, preserving our clients' pricing incentives. According to several industry studies, it costs companies in excess of $7.00 to process an invoice for payment internally. ICC's fees will save your company over 85% in invoice processing costs, which also improves your bottom line.
Don't leave money on the table. Call ICC today and we'll show you how we can boost your bottom line with our Freight Invoice Audit Services.