Contract Management Services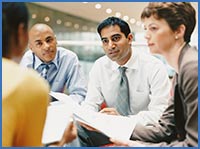 If you don't know the difference between a Transportation Contract and a Pricing Agreement, you are likely paying too much for transportation and logistics services.
While you may think you've signed a Transportation Contract with your freight carrier, in fact, all you may have is a Pricing Agreement. A Pricing Agreement gives the freight carrier the authority to change not only the terms but also the rates at any time without your approval.
Freight carriers each year give themselves a 6%-7% raise in the form of price increases. They can offer discounts, but it takes an expert to know which rates and discounts can be negotiated.
Without a contract, you're missing out on the opportunity to not only get improved rates, but to lock in those price reductions for the duration of the contract.
A Carrier Contract that benefits you!
ICC recommends that all logistics and transportation services be performed under contract, regardless of the transportation mode, carrier, or logistics service provider. We perform carrier contract negotiations to create Transportation Contracts that maximize your profits while minimizing your risk.
Transportation Contracts continually protect your interest:
Carriers cannot change a contract without your consent
All of your subsidiaries and affiliates can be covered by the same contract, making transportation costs predictable and improve savings
You can terminate a contract immediately if the carrier fails to comply with its obligations
ICC negotiates on your behalf to establish:
Extended payment terms, achieving additional savings by avoiding late fees
Multi-year contracts, which reduce or eliminate annual rate increases
Minimum insurance requirements; increased liability coverage for your protection
Confidentiality provisions, preventing your competitors from learning the terms of your contract agreement
Already under contract? No problem! ICC Logistics can make sure your contract does not contain terms that place your company in jeopardy. We can renegotiate the terms of your contract during the contract period and make sure you'll get the best deal moving forward. And we can do this for your contracts with parcel carriers, all freight carriers, domestic and international and 3PL service providers.
Ongoing Contract monitoring keeps carriers on notice.
ICC, through its Contract Management Services, reviews carrier invoices to ensure that you are being billed according to the Contract terms and conditions. We will also make sure you receive all earned discounts and incentives.
ICC's Contract Management Services protects you from getting locked in to an agreement that was auto-renewed unintentionally. Throughout the life of your contract, ICC identifies savings opportunities and service enhancements to lower costs and improve overall service.
Don't leave money on the table. Call ICC today and we'll show you how we can boost your bottom line with our Contract Management Services.